© 2011 Wyoming Precast Products. All rights reserved.

Direct: (307) 262-6881 | Office: (307) 237-7170

Check out what's new with Redi-Rock

The Ledgestone face creates texture and gives walls a random, natural look

The texture on each block makes individual blocks nearly indistinguishable, giving the impression of a natural, random stone wall

Featuring integral, rich coloring, Ledgestone is like nothing else available on the market today

LIKE OUR PRODUCTS?

Give us a call at

(307) 262-6881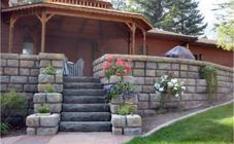 Redi-Rock - The Essence of Natural Rock

Attractive, natural Rock appearance in limestone, cobblestone and ledgestone

Curved, straight or circular formations

Unique interlocking system

Heights up to 13.5' with no geo-grid

Minimal labor & fast and easy installation

Stone Strong Retaining Wall Systems

Bigger blocks ideal for large-scale commercial applications - highway, railroad, commercial and waterways

True-gravity wall system can reach heights of 12-15 feet without the use of geogrid or other mechanical tiebacks eliminating future conflicts with utilities

Blocks feature a void in the middle of the block allowing for free draining aggregate inside the wall creating an internal drainage system

Verti-Crete Fences, Enclosures and Sound Walls

Aesthetically pleasing and has the look of true masonry

 More durable than wood, vinyl, or even block fences and walls and possesses graffiti resistance

Seamless, solid-panel design provides structural strength and security that lasts for decades

Can withstand all seasons and climates even seismic and huricane conditions

A new texture...Ledgestone